Christmas is long gone, but, the party isn't over yet. Make this New Year 2017's Eve Party extra ravishing with these latest celebrity inspired range of unparalleled collections from Althea:
Raunchy Metallic Eye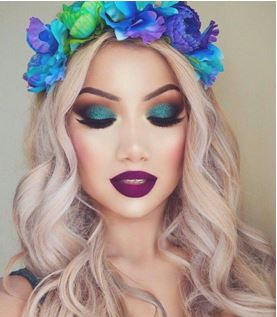 This is the season of getting bold and raging with the all new range of metallic cosmetics available on Althea. For this look, you would require using a deep blue cream eye shadow as your base. This could be followed up with a bright blue plus grey shadow. Use black eye liner to highlight your eyes and you can finally finish the look with a metallic silver shadow at the inner corners to spice things up.
Key Products to purchase: COC Momo Waterproof Gel Eyeliner (66% discount at Althea), Too Cool for School (TCS) Glam Rock Urban Shadow Glitter Type and Shimmer Type (55% off).
This New Year, Get RM 15 + RM 15 as a Welcome Gift offer for New Customers with Althea Malaysia Coupons. Also, get free shipping on orders above RM 99.
The Intense Monochrome
The classic vintage look – Monochrome make up is expected to be the trendsetter of 2017. The look needs you to pick up the same tones – be it for blush, lip colour, eye shadow or nail colour.
Key Products to purchase: TCS Glam Rock Urban Shadow Matte Type, Witch's Pouch POPO Lipstick and Missha Soft Blending Stick Blusher – all at discounts up to 60% off.
Glossy Lips
Few years back, this was a huge hit in Malaysia. However, mattes have become the current favourite. If you are a regular fashion follower, then you must already be aware that 2017 is the year of gloss. Just some simple nude primers and BBs, Smoky eyes and a dramatic lip gloss colour – will create all that luscious magic.
Key Products to purchase: the SAEM Eco Soul Kiss Button Lips at 25% off on Althea.
The Frosty Look
It's getting cold and your look must speak up the same. Ask Mariah Carey and she would say – 'least makeup and perfect eyes' is the in-trend New Year Party Make up theme that looks ultra- classic. Use a lightweight foundation, a simple tinted lip balm and long lashes with smoky eyes to complete the look.
Key Products to purchase: Witch's Pouch POPO Gloss Stick Tint Balm, Royal Gold 24K Foundation, Witch's Pouch The Choutte Essence Fill Stick Balm Foundation at 67% off and more from Althea.