A long and a tiring mundane routine during the week can mentally drain us. A relaxing nearby weekend getaway will help you to stay pumped for the weeks ahead!
Withina two-hour drive from the city of Kuala Lumpur, you can literally find dozens of amazing and thrilling staycation ideas.Staycation Retreats not only helps you to save money on your flight tickets, but you can also book the best hotels and resorts in prior for a hassle free  trip using exclusive nearby coupon codes.
Glamping Retreat
 The chalets in SekepingSerendah at Selangor, offers a captivating stay for you and your friends this summer season.It's fun to use nature-inspired Barbeque pits that are available here where you can cook your own meals and enjoy a raw jungle vibe. You can select any of the chalets: glass shed, timber shed, and warehouse, mud shed and glass box. It is ideal for a group getaway and the largest chalet can accommodate upto 14 people.
2. Adeline Villa & Rest House, Goreng
 This limestone rich state of Perak is a perfect place for nature lovers and for those looking for some extreme adventure. The activities here include Kayaking, guided Rafflesia trail walk, flying fox, ATV ride through waterfall trail, Caving in GuaTempurung, wet abseiling and river boarding. You can plan your stay and book a package through Expedia with travel coupons.
3. The Dusun, Seremban, Negeri Sembilan
 You can choose from 5 uniquely themed houses, i.e. 4 wooden Malay-styled and one modern Japanese-styled villa at The Dusun. It has two shared infinity pools across serene rainforest view. Here, you can trek to the nearby waterfall, visit a local reindeer park, get a massage, participate in photography workshop, hold your own barbecue party and go for a guided bird discovery walk as well! Book using Oyo rooms coupons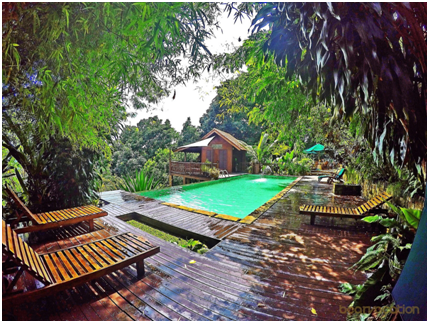 4. Awanmulan, Seremban
 It is a small collection of individual houses and is perfect for families and large groups. Each house has kitchen, so, you can choose to cook your own meals as it is fully equipped. You can take a leisurely stroll by the river, hike to short cascading waterfalls through the jungle. Rooms are available strictly by reservation.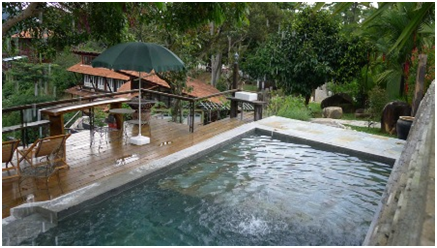 5. Enderong Resort at Tanarimba, JandaBaik Pahang
Located next to a natural trail, it is apt for a large group getaway as it has an Annex hall to host your get-togethers. It offers guided jungle trek and also helps in hosting a thrilling mini archery tournament.
6. Casabrina, Pahang
It is a posh and an extravagant retreat with two wooden furnished Villas that are fully equipped with all the modern amenities. You can enjoy Melaleuca spa, Rafflesia jungle trek, Kuala Lipis Heritage visit, and white water rafting, golf & paintball session and elephant & deer sanctuary excursion at this amazing place.