Malaysia offers a huge variety of options for a weekend beach getaway. If you are overwhelmed and extremely stressed by your daily schedule, well here are is the cue for a weekend getaway to rejuvenate your overworked soul so that you can get back to your work all motivated again on Monday.
Perhentian
This hippie hideaway is 21km off the Terengganu coast. The coral fringed clean waters cater a wonderful option for scuba diving and snorkeling. You can even spot few wandering fire artists near the beach bars in the evening. From high-end Malaysia holiday lodgings to the Budget friendly lookup, find the best resorts and hotels using Hotel Club Coupon codes.

2.Rawa Island Beach
It is a small island 16 km off the Malaysia's east coast peninsula and is Johor Sultanate's private Island. Having only two beach resorts, one being owned by the Sultan's family, it is perfect for travellers looking for a more secluded getaway. Rawa is known for its turquoise water and white sand.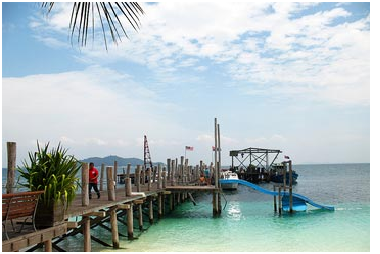 Start planning your trip with exclusive travel coupons to grab Extra 10% off on hotel bookings and RM50 off on flight+hotel bookings.
3. Layang-Layang
Also known as 'The Jewel of the Borneo Banks', it is one of the best beaches of Malaysia. It is famous for deep sea diving, scuba diving, Paragliding and sailing. Little more than a coral reef with a runway, this tiny island's isolated ambiance and remarkable marine life, makes Layang-Layang one of the best dive sites of Asia.
4. Sipadan Island, Sabah
It is a legend among hard-core divers and is considered a privilege to catch a sight of the diverse habitat here. It is so popular that the number of visitors has been restricted to just 100 per day. As you are not allowed to stay on Sipadan itself, book your stay near the Resorts built on stilts over the water with hotels coupon codes.
6. Pangkor Island
It is one of the most popular beach escapes for a calming and a relaxating experience which is only a 3 hour drive away from the city of Kuala Lumpur. You can tour the island with boat or ride along the waters with a bike. You'll find a mesmerising nightlife, uncrowded sandy beaches and a wide variety of local cuisine on this amazing island.
7. Redang Archipelago
Consisting of 9 islands forming a marine park, it is an upmarket destination. With magnificently preserved corals, diving and snorkeling adventures and crystal clear water this can be your next luxurious getaway.
8. Tioman Island
The clear turquoise waters make it a popular destination for those interested in scuba diving, snorkeling and Freediving. You can even go for golfing at the Golf Club. There are protected nature reserves surrounding the island and the waters, which help in retaining the exotic mystique of this island.